!body text="#000000" bgcolor="#FFFFFF" link="#FF00FF" vlink="#6633CC" background="./pictures/back.gif" topmargin="0" leftmargin="10" face="Times New Roman">

Back to Contents
O P O C N O
Opocno is quite a small town in size, but pretty huge in cultural meaning. There is a big castle of the Colloredo-Mansfeld noble family and many tourists come in the summer months to see it. The town is situated in eastern Bohemia.
Surrounding countryside has a hilly atmosphere of low mountains covered with forests and is very suitable for trips and camping throughout the year.
Close to the town there is a large pond called Broumar, suitable for windsurfing, boating or fishing. It is not clean enough for swimming. Fortunately, there are nice clean swimming pools close to it.
<!A href="pictures/broumar.jpg"><!img src="pictures/broumarm.jpg" width=133 height=100 alt="pond Broumar">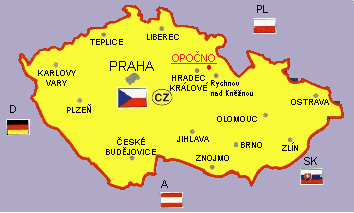 Data:
20 km north-west of Rychnov nad Kneznou
32 km north-east of Hradec Kralove
Part of Euroregion Glacensis together with adjacent part of Poland
260-300 m above sea level
Geographic coordinates: 50°16.4'N, 16°06.6'E (WGS 84)
Postal code: 517 73
Phone connection:

Phone numbers on these web pages (9 digits) are to be used from the Czech Republic
From abroad dial: +420 and the Czech number

<!li Statistical codes: 576590, 3607054

Full name for train timetable search service: Opocno pod Orlickymi horami

Full name for bus timetable search service: Opocno [RK]

Older forms: Opotschna, Opoczna, Opozcen (Historians Palacky and Sedlacek use "Opocen")


Name derived from stone type opuka (i.e. clay slate or mudstone) = castle on "opuka" rock


Opocno's twin cities are the Polish town Opoczno and the Dutch town Gieten that is part of Aa en Hunze, see also Gieten - history: images&text and text.
References:
Opocno in Radio Prague 22-09-2004 (off-line mirror)
About the town Opocno (with aerial photo) - in English, German, Czech
Territorial Register
Register of towns
<!a href="http://lexicon.sos.cz/mapa/Rk_opocno.htm" About the town Opocno (with photos) - in English, German, Czech /a>

---
Page illustrating development of Opocno maps.

---
OTHER MAPS
---

Orienteering map OPOCNO SVAMBERK, 1:5000, 2005, including the chateau and its gardens

---

Back to Contents
|
Next page