Listen

16kb/s
 ~ 
32kb/s
We travel to East Bohemia, to a small but very old town called Opočno, not far from the Polish border.
Jitka Kvasňová, photo: Pavla Horáková
"The town of Opočno is located about 150 kilometres east of Prague near the big town of Hradec Králové, in the vicinity of the Orlické Mountains."
Former town councillor Jitka Kvasňová is the editor-in-chief of the local newspaper.
The town of Opočno is probably best known for its remarkable castle which can be seen from far away - standing proudly on a hill above a stream called the Golden Creek.
"I would say that the biggest draw for tourists and for people from the Czech Republic and abroad would be our Renaissance castle. It was built in the place of a very old Gothic castle. It was rebuilt into a Renaissance castle some time in the 16th century. After about ten years of quite difficult negotiations with the state it is back to our aristocracy, the family of Colloredo-Mansfeld."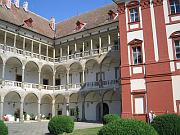 Opočno Castle, photo: Pavla Horáková
Opočno Castle houses a fine gallery and a library. In the big halls downstairs there are collections of 19th century tribal costumes, weapons, toys and the like gathered by the former castle owner on his travels around the world. On the first floor are the chambers once lived in by the owners, looking as if they have only just been left. On the top floor you'll find an armoury displaying weaponry from the 16th to 19th centuries, including oriental weapons.
When you visit the castle, the guides will show you around the halls and chambers and if you are lucky, they will tell you this grim legend about one of the first owners of Opočno castle.
Mikuláš Trčka of Lípa who held Opočno in the 15th century, was already advanced in age when he married a young noblewoman, who was only seventeen years old. Mikuláš was away from home much of the time but he was also extremely jealous. When he found out his wife was having an affair with a young yeoman he had him beheaded and his wife immured alive in a cellar of the castle. During renovation works in the 19th century, the workers did find a niche in the wall, and inside a skeleton dressed in medieval costume, fastened to a chair. But as the curious workers touched the find, everything fell to dust.
The tour of the castle begins and ends in the castle's courtyard which is open on one side offering a beautiful view of a wooded gorge.
"The castle is surrounded by a beautiful park in the English style and behind the park there is also a game reserve with wild animals."
Standing in the courtyard you can see that there is a clearing cut out in the woods just opposite the castle, so that the gentry could watch the deer grazing in the morning from their chambers.
Every August Opočno's main square turns into one great fairground for a few days when a special fair with historical and religious roots is held there. The editor-in-chief of Opočno's local paper, Jitka Kvasňová.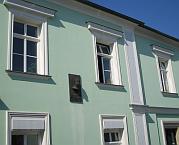 František Kupka's house, photo: Pavla Horáková
"Actually even its name says something about it speciality. It is called 'Porcinkule'. It's an annual fair that used to be a religious celebration. But in this age it's mostly really a fair and festivities and it's a big draw for children. It takes place on the first weekend in August. Lots of people from all around the region come to Opočno. Usually it is a time for families to get together; families and friends. This is still the occasion. It lasts for two days and it's really big fun, as I said, especially for children."
Just a few steps away from the main square you can find an inconspicuous little house where one of the greatest artists ever born in this country was born. But he's by no means the only famous native of Opočno.
"Well, we have quite a few. They are mostly known just in the Czech Republic but we also have one artist who is very famous throughout Europe. It is František Kupka, one of the first abstract painters. He was born in Opočno, lived in this region and later moved to France, and he died near Paris."
A beautiful Renaissance castle, a park and a game reserve, annual fairs and famous artists - that is quite a lot for such a little town as Opočno. But as my guide Jitka Kvasňová says, there's still more to see.
"Opočno is such a beautiful little place that it's not only for a summer holiday. Of course, springtime is beautiful everywhere. In the summer we can offer a beautiful newly renovated outdoor swimming pool and a little camping site next to it. In autumn there is another big draw, interesting for tourists - our Falconers' Meeting. It is the first week in October. It's is an international meeting of falconers. It is very interesting and some shows are also open for the public. And of course, we are only a few kilometres away from the Orlické Mountains which is a beautiful skiing area. It has not been discovered by tourists yet, so it's still very peaceful and quiet even in the skiing season in wintertime."